Fall is officially underway! My schedule definitely gets more crazy during this time of year. In addition to the normal home, family, and life routine, we normally hit the road to visit family or have visitors. Whether I'm traveling or prepping the house for visitors, it's extra for my routine. That means I need to feel my best to keep up with everything on the schedule. It's not always easy, but it can be done! This fall, I'll be staying on top of everything with the help of my new Grecian Blueberry Smoothie and Emergen-C® products.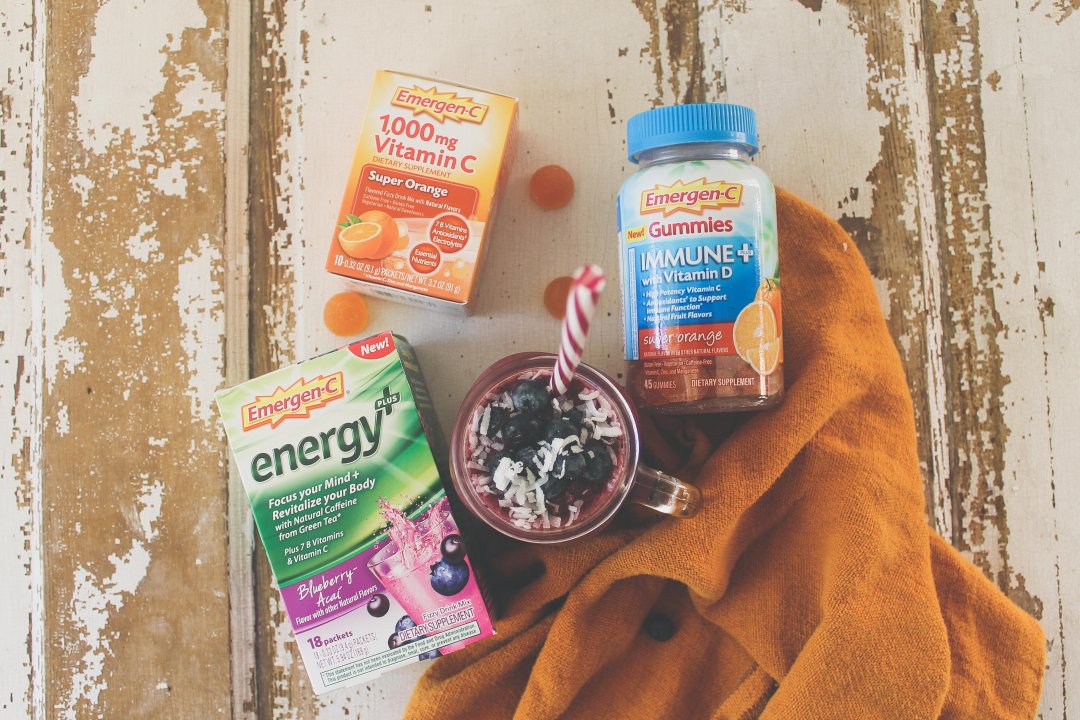 Hover Over the Photo Above to Shop The Products
Emergen-C® comes in over 20 flavors and a variety of special formulas. No matter what your wellness goals are, they have you covered. I love to make smoothies for when I'm "on the go" or to drink for a mid-morning snack. The fact that I can combine the different Emergen-C® formulas to meet my daily needs is also remarkable.
Emergen-C® Energy+ is a powder-packed formula with natural caffeine from green tea to focus your mind*; electrolytes to help replenish your body*; plus 7 B vitamins to fortify you and vitamin C for immune support.* By using Emergen-C® Energy+ Blueberry-Açai, my Grecian blueberry smoothie packs a ton of flavor, too. Yeah for delicious-tasting smoothies!
What I'm loving most about Emergen-C® products is that you can mix the varieties and formulas! They all work together seamlessly. Emergen-C® Energy+ can be taken with the Emergen-C® Core or Immune+ products so that you can support your daily wellness needs. Use products as directed.
I also picked up Emergen-C® Super Orange. Packed with Vitamin C plus other key antioxidants such as zinc and manganese to support your immune system along with B Vitamins to enhance energy naturally*, Emergen-C® dietary supplements are the delicious way to start your day.
In addition to drinking my Grecian Blueberry Smoothie, I take Emergen-C Immune+® Gummies Orange. Emergen-C Immune+® Gummies allow me to fit in extra vitamins and combine with the Emergen-C® Energy+ Blueberry-Açai for natural energy from green tea. The extra vitamins and natural caffeine give me just what I need to get everything done.
Your favorite fizzy flavors, now in a yummy new form! Emergen-C Immune+® Gummies support your immune system with Vitamin C and Vitamin D, support your energy with B Vitamins,* and are made with natural fruit flavors. No water needed! Bursting with fruit-y deliciousness, chew your way through Emergen-C Immune+® Orange & Raspberry Gummies to support your immune system with Vitamin C and Vitamin D.*
Do you like smoothies and want to try your hand at a Grecian Blueberry Smoothie? You can whip up this Grecian Blueberry Smoothie faster than you can a pot of coffee! It's very simple and quick to make.  I'm sharing the recipe and instructions with you today.
Grecian Blueberry Smoothie
Ingredients
-1 Emergen-C® Energy+Blueberry Açai packet
-1 cup of Frozen Blueberries
-2 tbsp of Greek Vanilla Yogurt
-4 ounces of Cranberry Juice
-1 tbsp of Shredded Coconut
-Fresh blueberries and Coconut
Instructions
Combine all ingredients in blender.

Blend until smooth.

Top smoothie with fresh blueberries and coconut.
Not sure where to find Emergen-C® products? I purchased mine at a local Walmart. Be sure to purchase all the ingredients for your smoothie while you're there, too. If you prepare in advance for a busy schedule, you'll be able to not only conquer your to-do list but also your wellness goal.
There is no mistaking that fall is a busy season! School is in session, family is visiting, road trips are underway, and much more. I'll admit that sometimes I can even get overwhelmed by everything that needs to be accomplished. It's because I put my everything into whatever I do. My Grecian Blueberry Smoothie will be with me every step of the way this fall season. I know I can get it all done!
Let's stay energized this fall together! How do you stay well and energized during the busy fall season? Let me know in the comments below.
-Crystal
*This statement has not been evaluated by the Food and Drug Administration. This product is not intended to diagnose, treat, cure or prevent any disease.